WELCOME TO DELAWARE RIVER AREA CODEPINK FOR PEACE
Peace and Green Working Together
WE NEED YOU to help us END wars and to build a new GREEN economy
We collaborate with various peace and justice groups in the Delaware River Region (NJ, PA, DE), to provide a creative and "PINK peaceful presence" at events and actions.
We also help to organize visits to our representative's on Capitol Hill and at their local offices in the region.
Our mailing list compiles action and event calendars from various groups in the region to help you navigate what is going on and how you can help out. This site is for the busy, but motivated activist, ready to jump in and make a difference where it matters most.
WE say PEACE IS GREEN, the NEW Industrial Revolution!
Our New Year's REVOLUTION is to promote the idea that PEACE IS GREEN!
Without addressing the reasons we go to war, it is near to impossible to stop it—Following the ideas in Van Jones's book, "The Green Collar Economy" and the wisdom from David Dornfeld on green manufacturing, we hope to engage with activists and political leaders to bring this movement forward. Becoming a country that can meet its own energy needs, manufacturing green technology and incorporating sustainable practices throughout our infrastructure will aid the planet, encourage growth and alleviate the stressors that cause war.
Okay, Okay, What do I have to do, remember I am BUSY...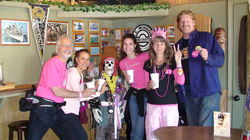 Visiting the "Powers That Be", Join US in DC or locally--
Thursdays in DC at "Breakfast with Bob": US Senator Casey (PA) opens up his DC office to his constituents on various Thursdays from 8:30-9:30 AM. This is a great opportunity every activist should take advantage of--You are able to speak to the Senator and his staff about ENDING THIS WAR! Driving time from Philly is around 3 hours, once you factor in traffic, parking and getting through security. You can be back in Philly around noontime. Click here for the schedule on his website. For additional information, contact his staff at (202) 228-6636 or 6637. Contact us for carpool info.